Since so many orchestras seem to be hunting for a new music director these days, I thought I would share this fun little excerpt on how to get hired for the gig, from my Boston Pops musical memoir, "Real Men Don't Rehearse": 
Aside from waving a white stick at the orchestra, a conductor's "persona" is a big part of what they do, and great amounts of time and effort are devoted to developing this image.
There are many aspects to a conductor's persona, but one of the most important parts of a conductor's persona is his or her name.  While this may seem like a random element to the casual observer, after considerable statistical analysis I have developed some guidelines regarding conductor's names.  If you wish to be the music director of a major orchestra, here are some simple tips and tricks for picking a name for yourself:
Let's begin with the "five syllable minimum" rule.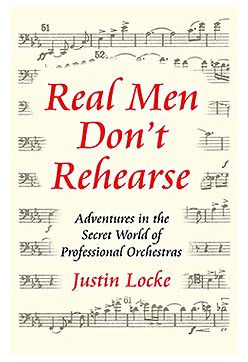 According to my theory, most Americans do not want to listen to a concert conducted by someone with fewer than five syllables in their name.  (Seven or eight syllables are even better—there seems to be no upper limit—but five is the minimum.)  Arturo Toscanini, Serge Koussevitzky, and Leopold Stokowski were of course all great multi-syllabic names for conductors.
However, if your name doesn't have five or more syllables, all is not lost.  You can go the added middle name route—such as Harry Ellis Dickson or Michael Tilson Thomas, and that is generally good enough to get by.
If you can't muster five syllables, there are two important exceptions to the five syllable rule: One is "the rule of z's and v's," and the other is "the variable 's' exception."
Simply stated, you can get away with fewer than five syllables if your name contains a "z" or a "v".  Of course, in an ideal world, you should try to have both a "z" and a "v", and have at least five syllables, like, say, Vladimir Ashkenazy, altho it's fine to have five or more syllables and just one letter or the other,  like, say, Yannick Nézet-Séguin, Gustavo Dudamel, or Seiji Ozawa.  It's also perfectly fine to have four syllables if you have both a "z" and a "v" like, say, Jaap van Zweden.  But if you can't quite manage that, you can still get by with just a "z" or a "v".  Zubin Mehta, Fritz Reiner, Lorin Maazel, George Szell, Franz Welser-Möst, André Prévin, Colin Davis, Osmo Vänskä, Pierre Boulez, and James Levine are all notable examples of less-than-five-syllable names still attaining great success via the rule of z's and v's.
For the variable "s" exception, if you are under five syllables and there are no "z's" or "v's" in your name, this is okay if there is an "s" in your name that is not pronounced like an "s".  Kurt Masur and Charles Dutoit are good examples, or even better, George Solti.
As a last ditch effort, you can always replace a letter in your name with an "ø" or an "ö" or maybe an "ß."  Data on this method is a little spotty, so I am not sure how effective these are, but you certainly have nothing to lose.
It's also helpful if you can muster up a title somewhere, like the "Sir" in Sir Neville Marriner (although, since he has both five syllables
and
a "v," the "Sir" is not truly necessary).  First names that are not pronounced the way they are spelled—like Serge (when pronounced Sair-GAY) or Geoffrey (when pronounced Jeffery) also win points.
(Incidentally, in case you are curious, the current record holder for the most syllables is Rafael Frühbeck de Burgos.  Let's face it, with a name like that, he must be absolutely fantastic.)
These are not hard and fast rules.  Four syllables are plenty if you have some actual talent.  The main thing to remember is, a conductor cannot have the same name as someone you grew up with in Toledo.  I would just as soon listen to a concert conducted by Bob Jones or Frank Johnson as I would drink a domestic beer with my hors d'oeuvres of fromage Camembert and pate de foie gras.
(Excerpt from Real Men Don't Rehearse (c) 2013 Justin Locke
Also available as a Kindle ebook.  Read another excerpt: "Look Kids, Now He's Decomposing" (Kiddie Koncert Mishaps)